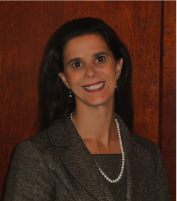 Admissions and Certifications:
Illinois (2004)
Michigan (2002)
Colorado (2004)
Florida (2008)


Languages:
English
Spanish
Education:

Northwestern University School of Law
Masters of Laws (LL.M.) in Taxation, 2007

University of Colorado
Juris Doctorate, 2002
Masters of Educational Policy, 2003

University of Michigan
Bachelor of Arts in Anthropology, 1997
Bachelor of Arts in Education, 1997

Nancy Bruggeman

In estate planning and administration, I focus on estate, gift, generation-skipping transfer and income taxes issues. I work closely with clients to sustain, restructure and transition family businesses smoothly through generations while minimizing taxation. I have significant experience in complementing estate planning with corporate and partnership entity tax planning for active business enterprises.

Coordinating a wide variety of client needs has given me a depth of experience in individualized planning. Each family situation is unique and I value building strong, personalized relationships with my clients. I assist clients by designing and implementing various types of trusts, partnerships, corporations and limited liability companies to preserve and transition wealth by using structured gifts, sales and combined transfer techniques. Clients with assets in multiple jurisdictions, including our international and Spanish-speaking clients, benefit from my tailored approach to harmonization of their business goals with their domestic and foreign estate planning.

When families have will or trust controversies, I litigate and negotiate settlements. I began my legal career as a judicial clerk in the Morelos State Civil Court in Mexico. Since then, I have worked in mediation and as a trusts, estates and litigation attorney. My background in litigation and mediation along with my technical tax insight allows me to successfully resolve sensitive issues related to family wealth transfer, complex tax and business planning matters.

My family is spread out in Illinois, Michigan, California and Florida, as well as overseas. I enjoy being an active member of the Chicago Bar Association Trust Law Committee, ALPFA Law Chicago and the Chicago Symphony Orchestra's Overture Council.

Heriaud & Genin, Ltd.
161 North Clark Street - Suite 3200, Chicago, Illinois 60601
Telephone: (312) 616-1809 Fax: (312) 616-1808
Email: hg@hgtrustlaw.com